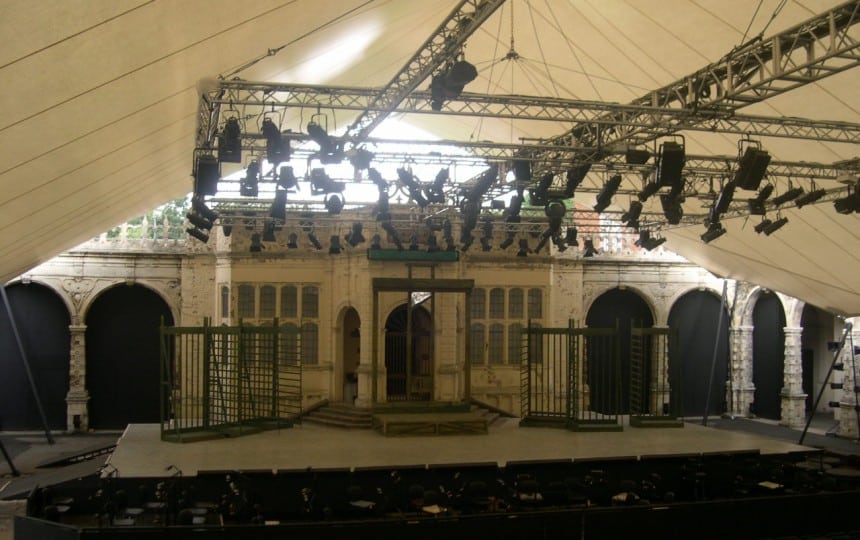 Considered one of the most accomplished non-state opera companies in the UK, Opera Holland Park is a summer season of opera performances staged annually under a temporary canopy in Holland Park, a public park in a wealthy district of west central London.
The original canopy, installed in 1988, fully covered the stage and seating area, leaving the side open for ventilation in the hot British summers. Now approaching twenty years old, the original canopy is nearing the end of its practical life, making way for a more modern canopy to take its place.
The new canopy, designed by Architen Landrell, will be built and installed in time for the 2007 season. The canopy will consist of four main masts in two V-shaped configurations strength. Compared to the original canopy, the new structure will increase the space covered from 1200 to 1600 square metres and expand the capacity by a further 23%. The height of the apex will also be increased to create steeper and more comfortable seating areas beneath it.
As a music venue, acoustics have had to be carefully considered; the peaks of the structure have been designed to provide places where sound can be reflected downwards towards the audience and the material and design minimise the sounds escaping through the open sides as much as possible.
As a Grade I listed building Holland Park will provide a challenge for the designers and installers at Architen Landrell. However, our designs ensure that not one screw, bolt or rope is to be fixed onto the existing building – the vast structure and its supporting steelwork will be entirely free standing.
Other posts by Architen Landrell
---