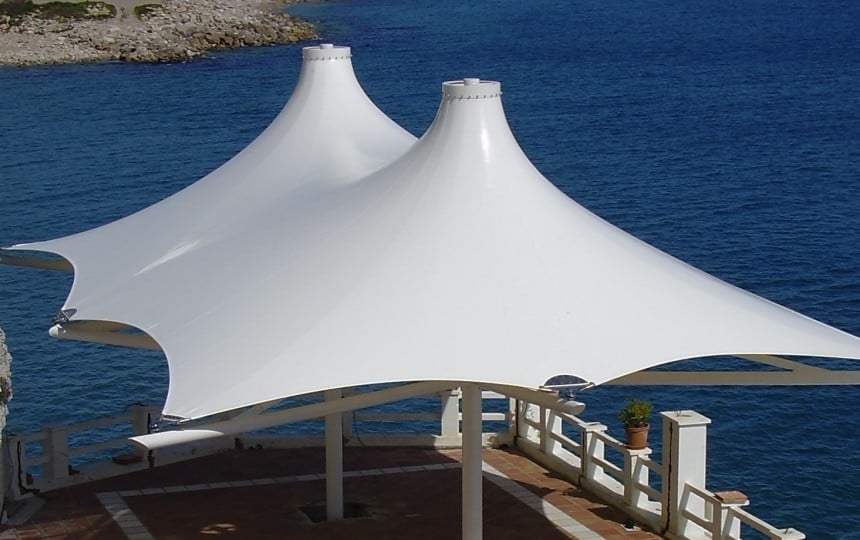 Fabrics have evolved and changed over time and yet most suffer from some form of environmental build-up until now.
As pioneers in the industry, Architen often looks to nature for inspiration. In the design industry, this process is known as biomimicry.
Were thrilled to be the first in the UK to be designing, manufacturing and installing with Nano Coated Fabrics.
What is it?
Nano Coated Fabric is a specially coated fabric for tensile architecture. At an atomic level, this coating reduces the polar energy on the surface of the fabric, creating a Lotus Effect.
Lotus Effect:
The Lotus Effect refers to the very high water repellence known as superhydrophobicity exhibited by the leaves of the lotus flower. Like the lotus flower, water that lands on the surface of the fabric creates large sphere like shape droplets which run off versus wetting the surface.
Dirt particles and pollutants on the surface are picked up by the water droplets as they roll off the fabric.  This process, inspired by nature, allows the fabric to resist build-up and self-clean.
Environmental:
Because Nano Coated Fabrics are self-cleaning, our clients can reduce on-going maintenance costs and the associated carbon footprint.
Applications:
We can incorporate Nano Coated Fabric technology on most tensile fabric designs.  Bring us your grand ideas and lets get started.
I Want to Know More:
Please contact Jason Smith on 01291 638 254 or jason.smith@architen.com to learn more and discuss your project.
Biomimicry at its Best
Other posts by Architen Landrell
---