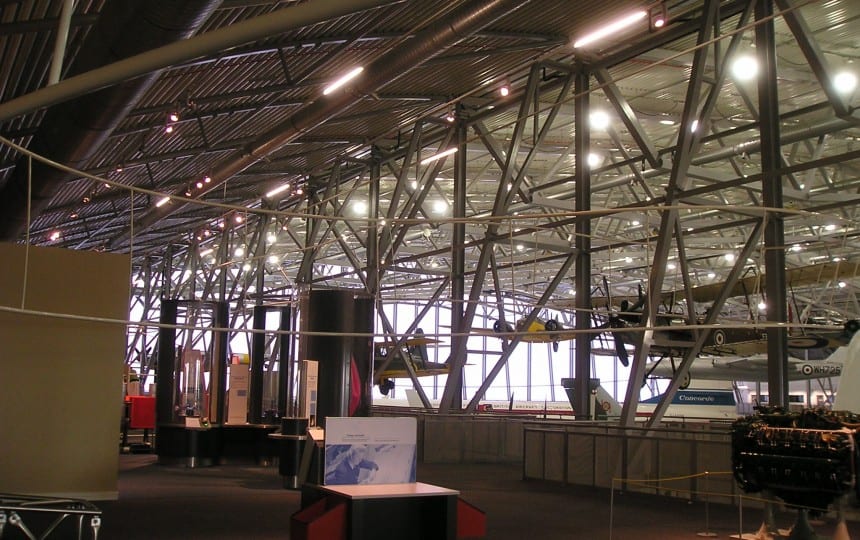 As part of the new 25 million AirSpace development project, Architen Landrell is currently underway on site at the Imperial War Museum in Duxford, installing a 225 metre long fabric ribbon structure. Known as The Flight Path, this structure not only provides a dramatic visual cue to lead visitors through the exhibition, but will also be used in a number of ways to enhance the displays themselves. Presenting large bold printed graphics, its surface will also form a projection screen for audio visual presentations and a back drop for effects lighting. This will help to identify distinct areas of the exhibition, giving different areas a sense of enclosure and a surface on which to present various materials or aircraft components.
The Flight Path has been conceived as a 1.8 metre wide undulating, twisting ribbon that passes in three-dimensional form down the length of the first floor gallery. Starting at the main entrance on the ground floor, the structure rises up the stairway to the main exhibition space, and performs a number of aerobatic manoeuvres as it flows throughout the hanger.
Once an RAF fighter station, Duxford is now part of the Imperial war Museum and is home to a large collection of aviation and land warfare exhibits, including important historic aircraft from all over the world. Sited within seven large buildings, the museum houses many exhibition themes including the Battle of Britain, Aircraft Conservation, and Land Warfare from 1914.
Other posts by Architen Landrell
---