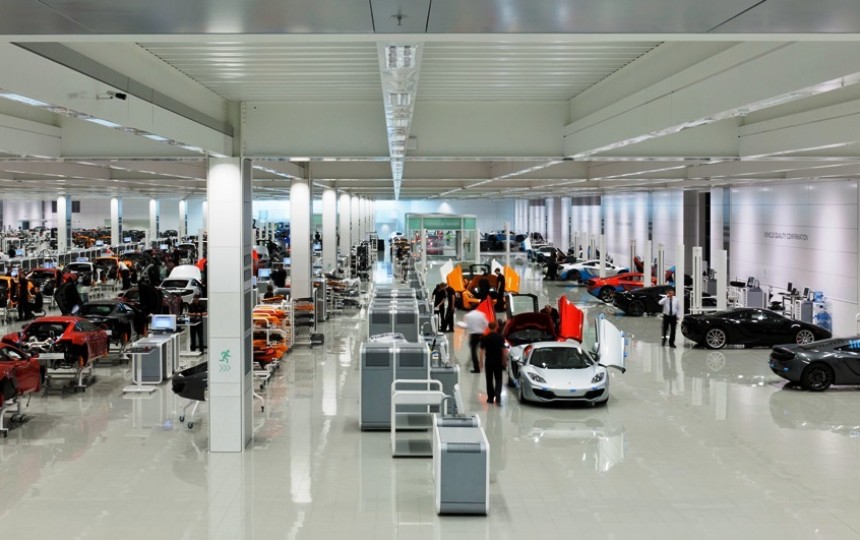 Internationally renowned tensile engineers Architen Landrell has provided the brand new McLaren Production Centre with 10 PVC white light diffusing ceiling membranes and the associated perimeter track fixings.
The 40 million Production Centre, in Woking, Surrey was designed by Fosters + Partners and designed to embrace new manufacturing methods. So, when a modern ceiling structure to complement the buildings phenomenal aesthetic impact was required, McLarens sponsor, Vodafone, were only too happy to recommend internationally recognised tensile architecture specialists Architen Landrell (in 2002 Architen Landrell designed and manufactured a bespoke fabric panel system that linked internal bridges in the new Vodafone World HQ in Newbury). The building now houses McLarens brand new performance cars during the manufacturing process.
McLaren dont make ordinary cars so, as a vital part of their brand, it was clear that their Production Centre could be no ordinary building either. Architen Landrell supported the atmosphere of futuristic minimalism with 336sq/m of pure PVC Cristal White light diffusing membrane. This lightweight, translucent material was backlit to deliver extremely consistent, flat light essential for the centres function and clinical appearance.
The Production Centre opened for business in November 2011 and McLaren were delighted with Architen Landrells help in delivering exactly the right look for such a high-profile asset in their business.
Other posts by Architen Landrell
---