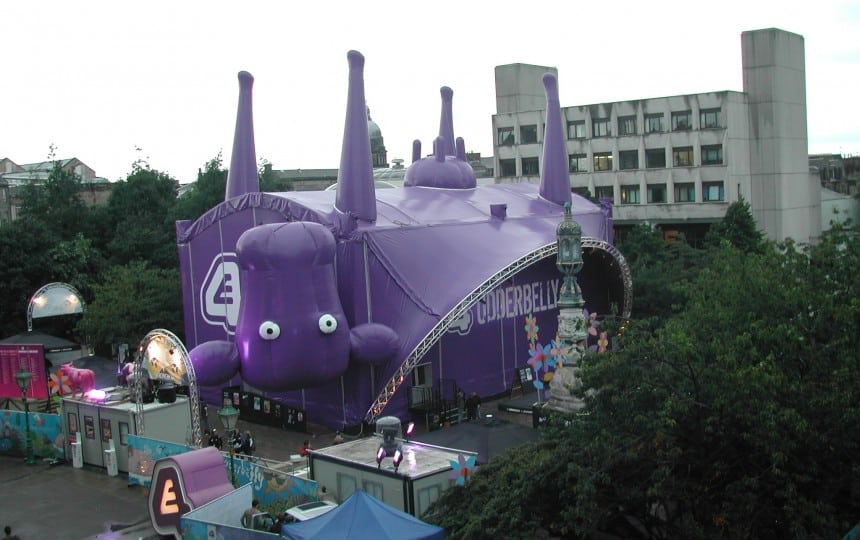 Exterior
Tensile fabric is being used more and more for exterior applications in the construction industry. The very nature of fabric means that it can be tensioned and twisted into a variety of complex shapes and designs to create unique aesthetically stunning structures.
Tensile fabric lends itself to exterior structures and has been used in most industries to create beautiful architecture; some examples include Denver Airport, the O2 Stadium and the McArthur Glen shopping outlets.
Interior
Lightweight tensile structures offer a wide range of aesthetic benefits that can be utilised in and interior environment. Fabric can be used to create sails, shading, screens or pretty much any shape you have in mind. While also being used as a feature, tensile fabric can also be used for solar shading, as acoustic baffles or to conceal the roofing systems of the structure.
Rock and Pop
Stage cladding, banners and other forms of exciting, fast track architecture can be easily created out of tensile fabric. Due to its very nature it can be manipulated to mould into the most creative of design briefs which often are associated with concert and festival stages.
As tensile fabric is easily printed on, it can form part of the branding for a festival or event by creating a unique structure, such as the U2 claw stage created by Architen Landrell.
Inflatables
Inflatable structures are naturally eye catching, they make people stop and stare as such an obvious difference to the normal buildings. Inflatables capture peoples imagination and draw people to investigate, the E4 Udderbelly Festival cow is an excellent example of an inflatable.
Other posts by Architen Landrell
---