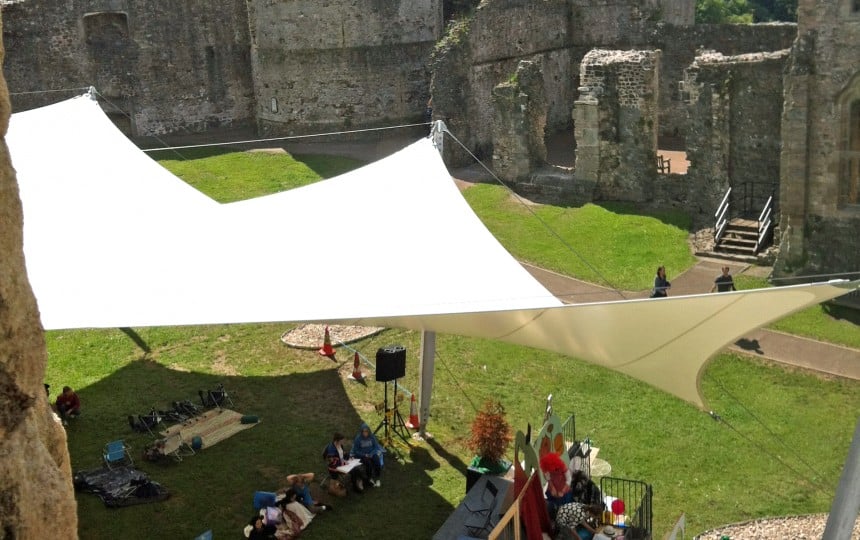 Architen Landrell are delighted to have designed, manufactured and installed the brand new tensile canopy in the grounds of Chepstow Castle for the Chepstow Festival Committee.
The bi-annual Chepstow Festival has become Britains largest festival of open air theatre thanks to the addition on the new 300 sq/m canopy which has been erected in the grounds of the Castle.
The team at Architen Landrell were thrilled when approached by festival organiser Ned Heywood with the possibility of installing a demountable tensile structure which had be drawn by Chepstow based architects Hall & Bednarczyk.
Senior Designer on this project Ceri Richards lives and works in Chepstow and has thoroughly enjoyed working on a project in my home town, I love what I do and it is really nice to know I will be enjoying the benefits of this canopy with my family.
The new tensile structure provides more than 400 spectators shelter from the elements during open air performances within the lower bailey of Chepstow castle and was erected by a specialist installation team in June 2012.
The 300sq/m canopy is affixed to the existing Castle wall which dates back to 1067AD, and in order to ensure the castle did not undergo any damage we worked closely with CADW to reinforce and then structurally support the wall. This work is now completed and the Castle can now withhold the loads which will be imposed upon it.
The front of the canopy is raised by 3 glulam masts averaging at 7.5m high which are made out of laminated structural timber, and then secured to the ground using tie down cables.
For more information on the canopy contact our Sales and Marketing team on 01291 638200.
For information about Chepstow Castle please call 01291 624065.
Other posts by Architen Landrell
---