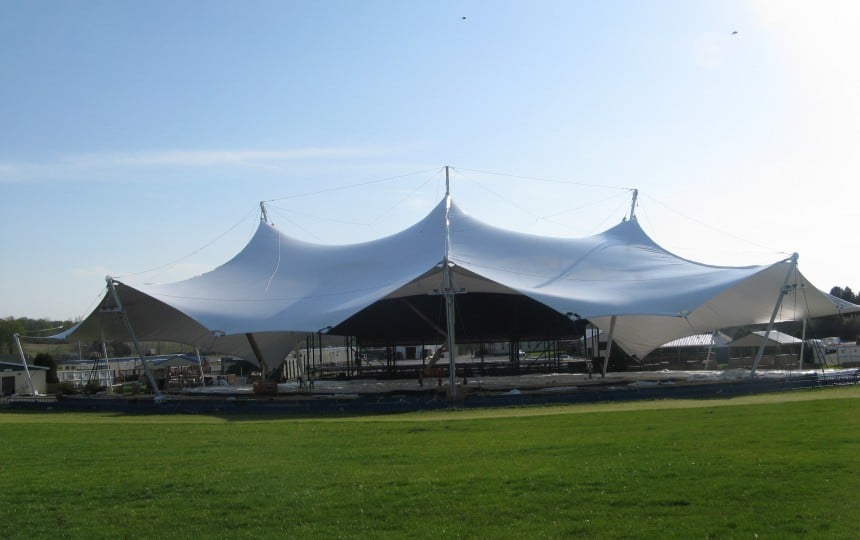 Patterning bridges the gap between the design for a structure and the fabrication process to enable the fabric to be accurately cut to shape and made in the factory just as the design intended.
Our production design team receive raw patterns from the design and engineering team to which they add seam allowances, add-ons and any other fabric details before issuing the patterns to the factory for manufacture.
Once under tension, different fabrics will stretch different amounts and in different directions. Part of the skill of fabricating a tensile structure is to allow for just the right amount of stretch, making the structure slightly smaller than it will eventually need to be. We call this compensating and it is carried out by the design team when they finalise the cutting patterns.
All sounds fairly simple, but how is it actually done?
Our production design team use a variety of computer aided design programmes, mainly AutoCAD, Mpanel and Automarker, to process the patterns and nest or layout the panels to maximise fabric efficiency and minimise wastage.
Extensive testing is carried out on each batch of proposed fabric and the degree of stretch in warp and fill direction are monitored, recorded and fed back to our production design team. These measurements allow us to compensate for the anticipated stretch and reduce the size of each patterned panel accurately.
Once allowances have been made for the fabric behaviour and detailing, the patterns can be issued to our fabrication team for cutting. To ensure quality and consistency throughout the fabrication of a structure, the production design team draw up a general arrangement drawing or GA to act as a guide for how the panels will fix together.
Once cut, the fabric moves on to the next step on its journey towards becoming an installed structure.
Other posts by Architen Landrell
---