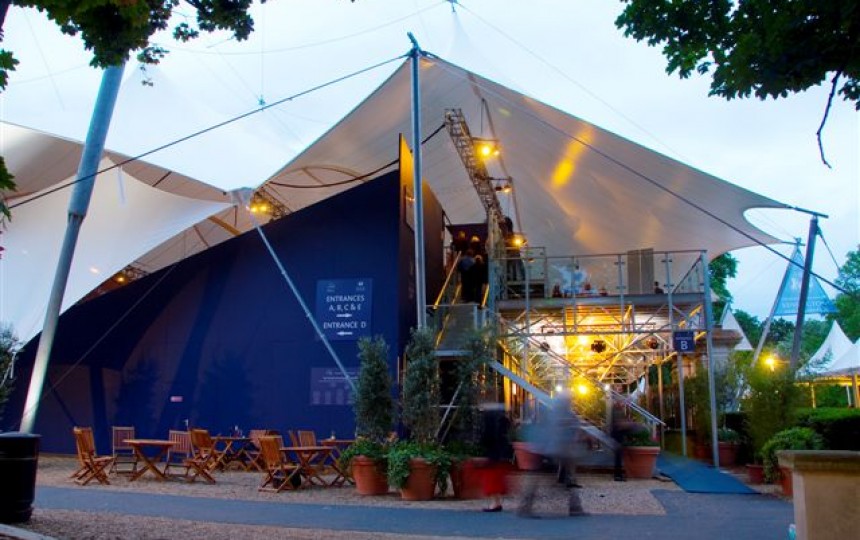 Temporary buildings are often seen as a cheap, pre-fabricated, sometimes ugly, building type but that is far from the case. The lightweight nature of tensile fabric makes it ideal for exciting, dynamic demountable structures which can be designed especially for your unique circumstances to ensure the canopy provides exactly what is required.
Although traditionally tensile fabric has been considered a short lived form of architecture, fabric structures can last for 30 years and more. More recently we have seen tensile fabric being used in a wide variety of uses stretching from small, one use event canopies, to seasonal canopies erected on an annual basis year after year, to large scale temporary installations like those being erected for the London 2012 Olympic Games.
One example of a temporary installation is the canopy constructed every year for the Holland Park opera season. Designed to be dismantled at the end of the summer and stored through the winter, the weight, size and number of steel columns supporting the structure were minimised to aid storage and much support comes from tie down cables. The membrane is fabricated from a flexible PVC coated polyester, made up of panels limited in size to allow for easy handling and storage. In this case, the structure is designed to impose no loads on the existing buildings so all ballast comes from permanent foundations. For tensile fabric structures which are relocated time and time again, or where foundations are not viable, ground anchors, water or sand ballast can also be used.
Another example of a temporary structure is the London 2012 Aquatics Centre which is a subtle blend of permanent and temporary building materials resulting in a stunning final product. The centre part of the building which houses the swimming pools is a permanent structure and the seating stands to each side of the pringle shape are temporary which are clad with fabric.
For more information about tensile fabric and its temporary uses visit the portfolio on our website.
Other posts by Architen Landrell
---