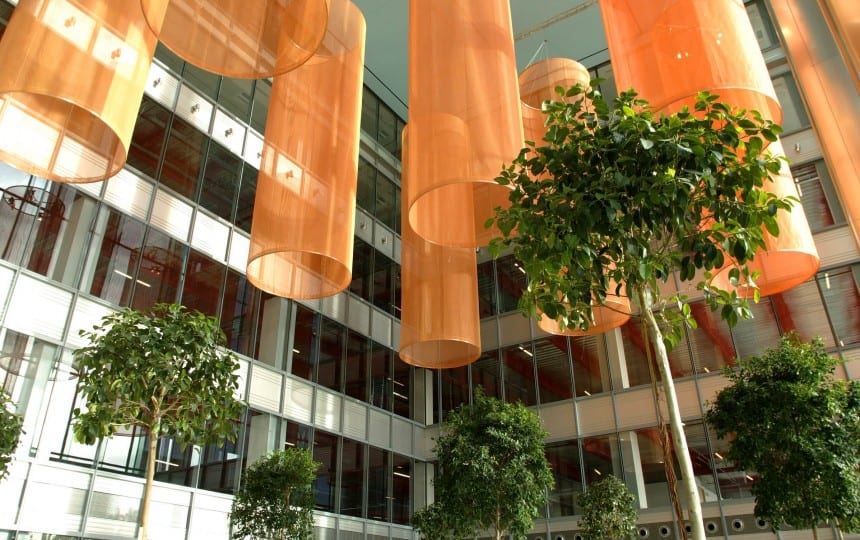 Tensile fabric can be used internally to transform interiors to modern spaces; sculptures, cladding and shades are all ways that fabric can be applied.
Acoustics
Modern offices and public spaces can occasionally suffer from the effects of noise as it bounces to and from hard surfaces in the space. This can result in an unwanted echoing sound which is adding to the high level of background noise and will make normal conversation difficult.
By the application of acoustically engineered fabric or the adding of absorbent foam behind acoustically-transparent fabric, levels of background noise can be dramatically reduced.
Solar Shading
Specifically engineered solar meshes can be used to offer shade while maximising the natural light allowed through the fabric. Regulating the levels of natural daylight can reduce lighting bills, air conditioning bills in the summer and heating bills in the winter.
Thermal Insulation and Ventilation
Fabric membranes can carry quilting such as Rockwool to their rear face to offer thermal insulation and conversely, if ventilation needs to be maintained, then the mesh will allow airflow to permeate.
Screening
Tensile fabric can create cost-effective division panels which can control foot-flow, enclose break-out areas and meeting spots and divide spaces up. These panels can either be opaque, translucent or anywhere in between.
Promotion
Fabrics can be printed digitally or by using dye transferal making promotional branding, personalisation, colouring and the addition of artwork simple and cost-effective.
Lighting
The nature of tensile fabric forms means they lend themselves well to both external and internal illumination.
Other posts by Architen Landrell
---