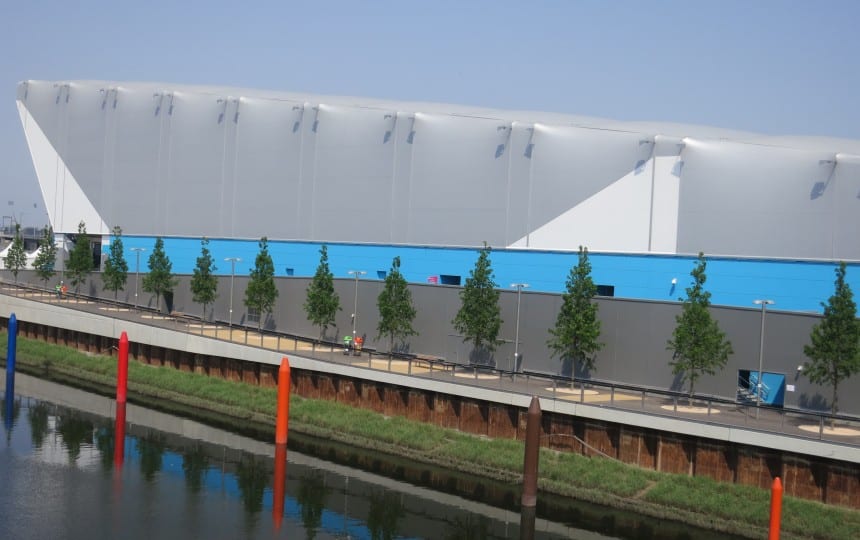 Whether its a banner on a shopping centre, temporary cladding for seating stands or an entire building made out of tensile fabric cushions, you cant avoid the stuff, and lets be honest why would you want to?
Building with tensile fabric is not a new craze; it has been around for years with its roots embedded in history dating back to Mongolian yurts but the vast opportunities that it can offer explains why it is still one of the most popular building materials around.
So where exactly is it being used? Well, there are far too many examples to explore them all but I want to look at some of our favourite and most imaginative and purposeful uses of fabric.
David Morely Architects Water Polo arena is an entirely demountable structure featuring tensile fabric cushions creating a stunning piece of architecture on a bed of steel. The structure comprises PVC coated polyester cushions forming the roof of the structure and a single layer of PVC coated polyester to create the sides of the building. The arena also features integrated lighting which illuminates the cushions from the inside at night.
Zaha Hadids Aquatic Centre is another excellent example of how tensile fabric can be used, in this instance it clads the temporary seating stands attached to the permanent structure. The complex design required PVC coated polyester mesh to clad some of the sides to the seating and a solid fabric for the rest. Overall the structure works really well incorporating the temporary use of fabric and utilising the benefits of mesh and solid fabric.
Not strictly fabric or at all, but we love the CocaCola Sponsors Pavilion. Featuring 200 red and white ETFE foil sound cushions in an angular and futuristic configuration, this feature allows visitors to play the structure to create different sounds and melodies.
So there we have it, tensile fabric wins our vote as best building material at London 2012.
Other posts by Architen Landrell
---