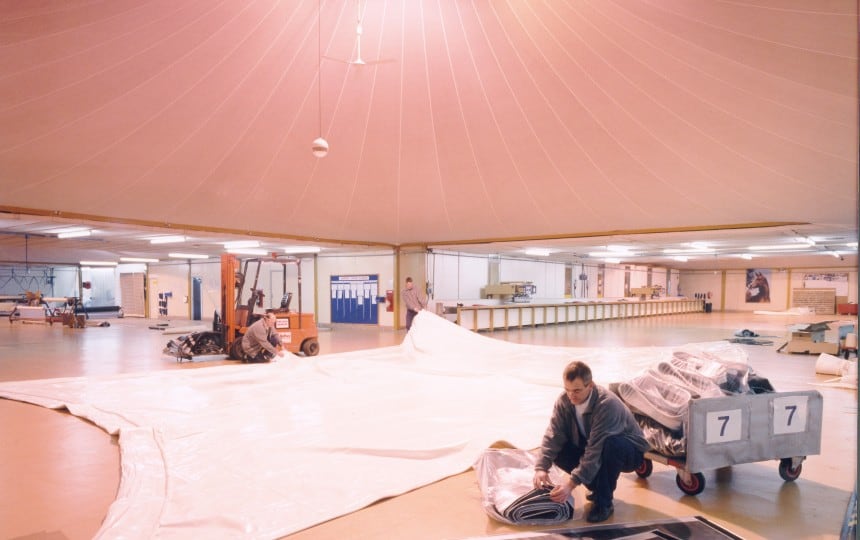 When it comes to tensile fabric you can do both, but Architen Landrell have a third option . Relocate the structure
Re locate
To prevent wastage of the fabric and the steel framework we prefer to re-erect unwanted structures from one project onto another site, this solution provides the new client with a cost-effective option when choosing a tensile fabric structure.
A number of our structures have been successfully relocated; an example of a positive movement of an Architen Landrell structure is our very own office which was created by joining together modular structures built for NatWest Bank in the 1980s. As the structures are easily demountable
Re-use
Our structures can be taken down and adapted to provide tensile structures elsewhere for example after we installed a temporary building wrap to one of the stands at Arsenal Football Club, the printed cladding was cut up and used to create banners and point of sale material for sports retail outlets.
Another method of getting rid of our off-cuts and unwanted fabrics is to donate them to charities who can make them into something useful. We are currently exploring the possibility of donating all of our waste fabric to a local Bristol charity who would use the materials to create something new and exciting for children from low income families. Architen Landrell Associates are really keen to promote this method of re-using our fabrics.
Before fabrics are deemed completely unusable it is possible to use some off-cuts and spare material for patch repair work on structures, thus saving money and helping prevent unnecessary wastage.
Recycle
Industrial fabrics which are made to high specifications have complex structures meaning they cant be recycled in the normal ways; a technical chemical process is required to separate the different components. This method is the Vinyloop system which was developed by Ferrari S.A.
The process to separate polyvinyl chloride (PVC) from other materials has to be done manually and is product specific, a solvent is used to separate the elements. The method has five steps and results in a material that although cannot be recycled in the true sense of the word it can then be re-used for other purposes. Polyester Fibres can be made into tubes and pipes, floor coverings, boots/shoe soles, packaging and Supple PVC can be made into geotextiles, insulation, upholstery and filters.
Other posts by Architen Landrell
---