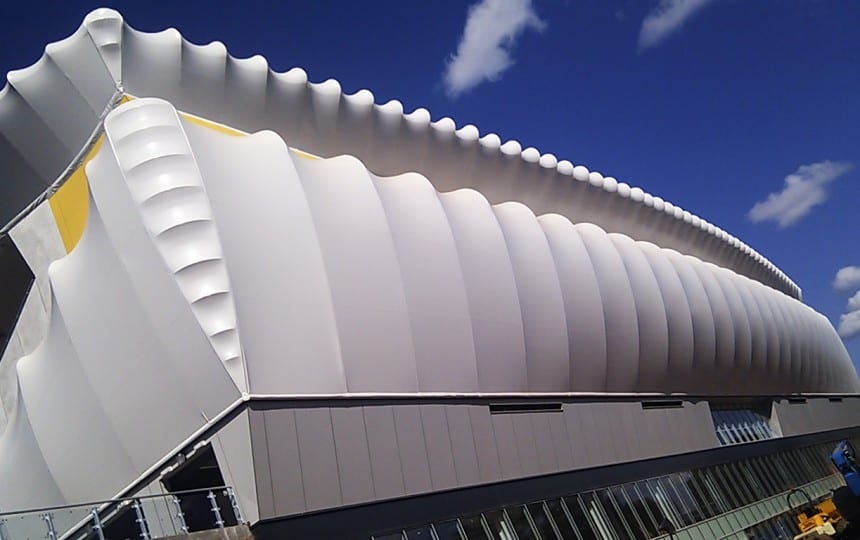 Not quite sure how to provide a sheltered, insulated structure? Read on to find out how tensile fabric is the material of your dreams! Well, you might not be dreaming about it but tensile fabric is a building material that can offer all the same insulation properties as a solid structure but with all the flexibility and creativity of an architectural membrane!
Generally, tensile fabric structures are not known for their inherent insulation and a single layer of any of the technical fabrics we generally use will cover unheated spaces effectively but offer no further insulating properties. However, by using a multilayer membrane system it is possible to improve thermal performance and even meet Part L Building requirements.
Multilayer systems generally comprise: an outer and an inner tensile membrane with a thermal multi-foil layer sandwiched in between this gives the required U value but has the drawback of rendering the membrane entirely opaque. More recently, products such as Nanogel have been introduced into the market which allow some light transmission to be retained but can be prohibitively expensive.
Good levels of insulation can also be achieved by creating an air inflated cushion from PVC coated polyester, PTFE coated glass cloth or more commonly ETFE foil. Here additional layers of membrane trap additional pockets of air which can result in u values as high as 1.18.
If you have questions or want some project specific advice, feel free to give our technical support team a call on 01291 638200 for some impartial advice, or send us an email mail@architen.com
Other posts by Architen Landrell
---