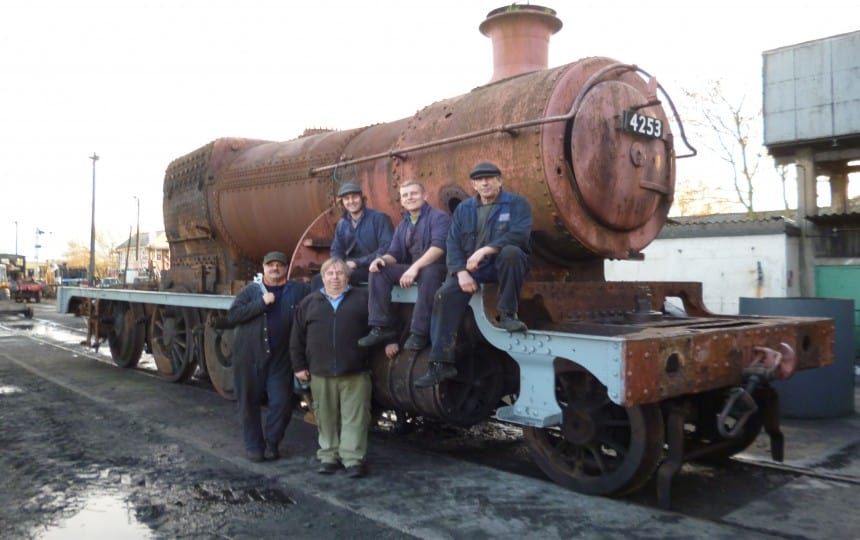 When PVC fabric has reached its shelf life and/or it was used for a temporary venue that has come and gone, the fabric does not have to end up in a landfill or be transported to a recycle centre.
Often times, Architen Landrell can rehome fabric giving it a second life. Reusing fabric is an environmentally smart decision and a win-win for all.
Case Study:
A client of Architens had an older tensile fabric structure. We recently replaced the canopy with a bright new white one.  The older canopy would have ended up in a recycle centre, but instead we found a unique opportunity to donate it to a non-profit, 4253 Locomotive Company Limited.
4253 just purchased the remains of an 85 tonne rusting steam engine train. The train was built in 1917 and withdrawn from service in 1964. Since then,  it remained on a Welsh mountainside scrap yard rusting in pieces, until now.
The newly recycled PVC fabric roof created a space for:
-Restoration: The restoration project will take ten years to complete. Now 4253 has a dry space to undertake restoration work year round.
-Shelter: Without proper shelter, the various components of the historic train would rust. The fabric canopy provides a dry space for storage.
-Training: Young people who would like to develop engineering skills associated with steam locomotives now have a covered place for hands on experience in the form of an outdoor classroom.
Thank you to Bryan Atkins of 4253 for the gracious letter he sent to our staff acknowledging our contribution.  We are happy to help out and look forward to following the restoration process.
Other posts by Architen Landrell
---