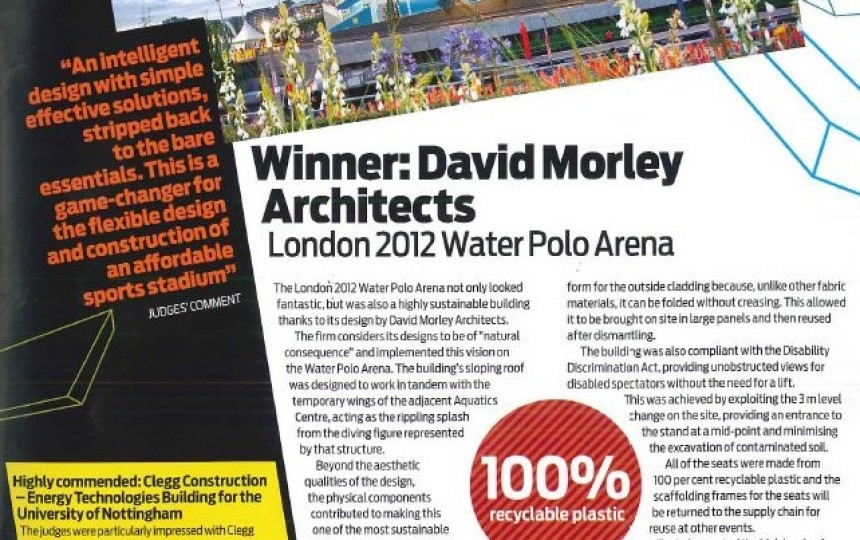 The Construction News Awards celebrates the best people and projects in the industry in what Rebecca Evans, Editor, calls champions of innovation and ambition.
Designed by David Morley Architects, manufactured and installed by Architen Landrell, The Water Polo Arena was awarded Best Sustainable Project of the Year.
About the Fabric Roof & Cladding (excerpt from Construction News 19 July 2013):
The roof was made by inflating phthalate-free PVC into huge 54m long by 10m wide cushions. This provided enhanced insulation and solar control as well as reducing the risk of condensation over both athletes and spectators.
In addition, it meant the roof was self-supporting and did not require a secondary structure. This material was also used in sheet form for the outside cladding because, unlike other fabric material, it can be folded without creasing. This allowed it to be brought on site in large panels and then reused after dismantling.
The judges were impressed by the temporary nature of the design. They felt The Water Polo Arena represented a new way forward for sports stadium construction, avoiding the creation of white elephants and making venue construction more affordable.
Architects or Event Organisers, if you are looking for a large scale fabric or ETFE structure, please contact Jason Smith on Jason.Smith@architen.comJason.Smith@architen.com / +(0)1291 638200.
Other posts by Architen Landrell
---