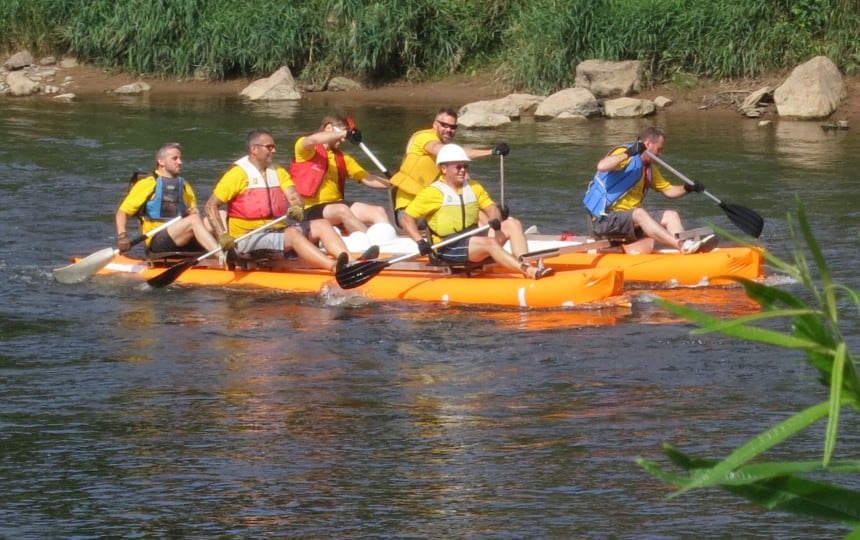 Yesterday, 1 September, Team Architen Landrell, won 2nd place (out of 70 rafts) in the All Mens Category of the Monmouth River Race.
Dodging eggs, flour and water balloons being hurled from the bridges, Architens crew really dug in and paddled their hearts out down a very low and slow River Wye. First off the starting line, the team travelled 6.5 miles down the beautiful Wye, reaching the finish line in 1 hour 17 minutes.
Architen have a history of winning different categories of this infamous race and we were proud to once again bring home an award.
The Architecture of the Raft:
The bespoke raft is made of a lightweight aluminium frame mounted on two PVC coated polyester inflatable bright orange pontoons. The raft is equipped with a mesh fabric net across the middle made from recycled fabric from the London 2012 Aquatics Venue – perfect for storing kit.
Being in the tensile fabric industry, it was important the design of our raft stay true to the core of our business hence the PVC pontoons. While the raft is designed for speed, the key is teamwork.
Fun for a Good Cause:
The event was followed by a Family Festival equipped with rides, entertainment, food & drink. A good time was had by all and for a good cause – the Raft Race raises thousands of pounds for St Davids Hospice Care.
Architen Crew:
Angus, Ceri, James, Jason, Justin & Mark
Other posts by Architen Landrell
---