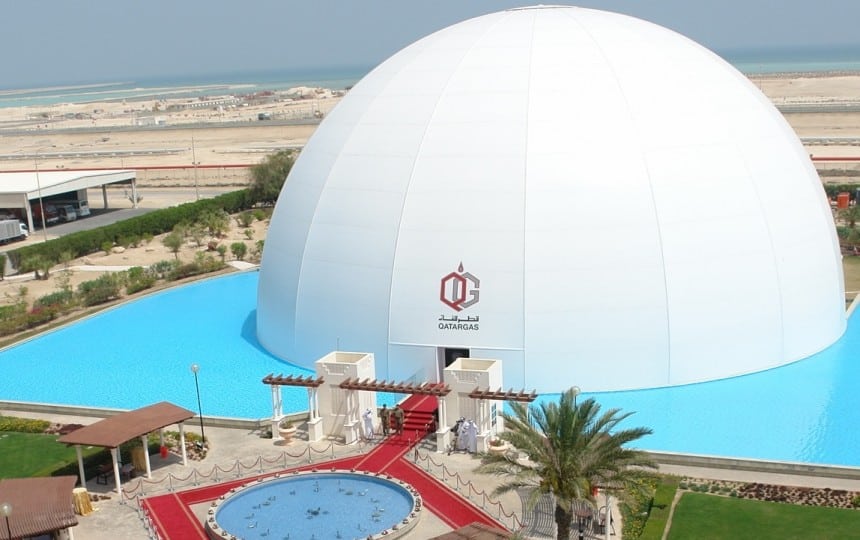 When looking at the different types of construction available it is important to consider the environment that the structure will be in, extreme weather conditions can have profound effects on a building. It is also important to look at the use of the building and the stresses and strains that it will be put under, in some climates (such as airports) there is an increased risk of bomb blasts.
In these circumstances, tensile fabric comes into its own although we cant accurately predict the performance of a structure, we can use our extensive knowledge and experience to give indicative advice.
In 2003 the Al Hamra tennis court roofs that we built in Riyadh were damaged by a nearby terrorist bomb, it was noted that while the fabric had minimal damage there was significant overloading of the structure. This caused cables to fail and a mast and foundation to be damaged.
While the fabric itself absorbed the high shock loads the increased tension through the plane of the fabric into the attachment points and it was here (in the foundations and surrounding structure) that the structure would fail.
However, an explosion inside a structure would cause massive additional load around the perimeter of section of bolted fabric. Failure of one fabric panel would force loads out of balance which would buckle any supporting columns initially, and then the fabric itself.
Tensile fabric will absorb sudden shock protecting those below from falling debris and is popular in airports and high security areas, an example of this can be seen at Zvartnots Airport in Armenia. Here the inside of a brand new terminal building was fitted out with some interior baffles that would conceal the roof cladding in an attractive manner that would be safe if the building should be put under heavy shock.
Compared with fabric, ETFE foil is a more flexible material that can take very high loadings for a short period of time making it an ideal material for use in locations where there is a risk of explosion. Likewise, if vandalism is threat ETFE cushions will not break or fall from the extrusion frames if damaged.
Other posts by Architen Landrell
---