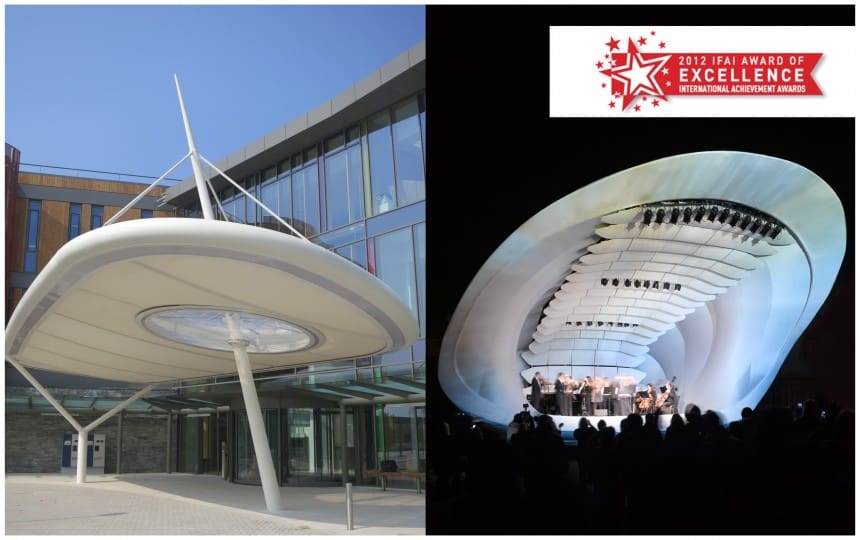 The spotlight was on Architen Landrell at this years Industrial Fabrics Association International Awards as we claimed not one but two Awards of Excellence for our work at Enniskillen Hospital and for touring music venue Soundforms.
The structure at Enniskillen Hospital is a beautiful example of the simplicity of a fabric structure, combining a fabric clad steel frame with perimeter lighting, and transforming the structure into piece of public art that fits in with the new modern complex while remaining tasteful and functional. The membrane itself is formed from PTFE coated glass due to its durability and extended lifespan. An aesthetically pleasing fabric, it provides a stunning exterior for the ambulance canopy as well as meeting the necessary weatherproof requirements.
In contrast to the permanent architectural feature of the Enniskillen Ambulance Canopy, the Soundforms project required a lightweight, demountable fabric membrane with added acoustic properties in order to meet the design brief. Formed from inflated PVC coated polyester cushions and a stretch fabric liner the membrane is inflated to variable depths which allows for the differing tensile loads across the structure, ensuring the skin retains the shallow curved, clam-shaped exterior. The brain child of a classical composer, developed by a multi-disciplinary team from across the events industry the Soundforms structure undoubtedly has a bright future!
Other posts by Architen Landrell
---