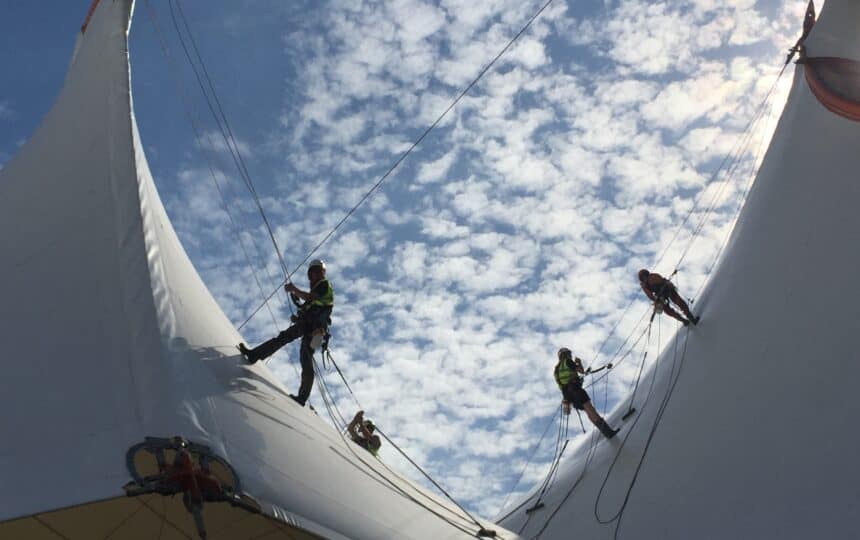 The installation of tensile structures is an art as much as it is a science. The complexities of tensioning membranes and cables to ensure perfect aesthetic and structural performance can only be understood by the experts.
But add into the mix that installation is frequently carried out at height or in hard to reach locations, and the need for both experience and the highest level of safety becomes paramount.
That's where we step in, with over 30 years of experience and using the most qualified crews in the world, Architen Landrell's installation and maintenance teams are unrivalled.
But don't just take our word for it, the qualifications our teams possess can set your mind at ease. All our installation crews hold CSCS and SSSTS accreditations but for complex at-height installations, they also all maintain IRATA membership – the gold stamp for the safe practice of working at height.
IRATA (Industrial Rope Access Trade Association) was set up to bring a unified safety standard for everyone using ropes as a means of access. Whether you're working on an oil rig, over water, in a confined space, at 1000ft or 6ft off the ground, safety should be the number one priority and IRATA's high standards, extensive training and ongoing assessment are a reflection of this.
IRATA's high level safety standards echo our own. As a business, we take safety seriously at every stage in our working practises. In addition to the individual qualifications mentioned above, as a business we are also accredited to:
Alcumus Safe contractor
CHAS
Constructionline
SMAS
RISQ
Whatever the project, you're safe in our hands.

Other posts by Architen Landrell
---