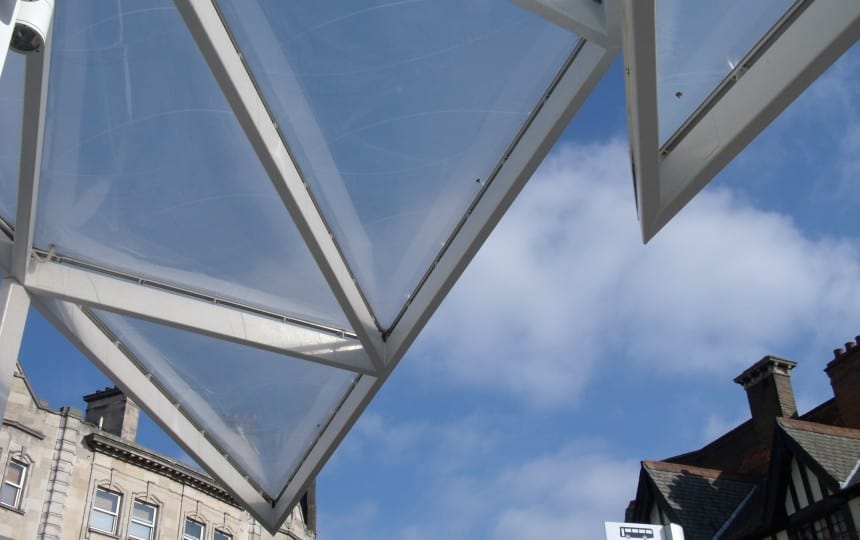 Architen Landrell is thrilled to be the first in the industry to introduce a pioneering new form of ETFE technology which reduces heat under ETFE roof systems by absorbing Infrared Radiation (IR).
Until today, we managed solar glare and solar gain under our ETFE roof systems using fritting. Similar to fritted glass, the top layer of the ETFE is printed with a metallic pattern to reflect sunlight, reduce light transmission and, as a by-product, limit solar gain within the building. Using this new technology, ETFE foil can retain high levels of light transmission but reduce heat build-up, to offer an exciting new dimension to ETFE system.
How does it work?
Our ETFE suppliers created a way to fundamentally change the chemical composition in the manufacturing process of ETFE foil. The process has been tried and tested and it successfully absorbs IR – dramatically reducing heat build-up under an ETFE Roof.
Long gone are the days of the 'green house' effect. Now, you can have a naturally lit space that stays cooler on hot sunny dates.
Will I lose natural sunlight?
No. While the top layer foil has a slight bluish tint, it will still allow natural sunlight to still pass through the ETFE roof and will maintain up to 55% light transmission.
Can I still have a Frit pattern?
Yes. Fritting can be added to the IR foil to greater reduce light transmission and add interest.
What about Maintenance/Lifespan?
This additional benefit offers no real draw backs; Lifespan is sill 50+ years and maintenance is minimal, given ETFE self-cleans in the rain. The only maintenance required is an annual inspection of the Air Handling Unit (AHU).
If you'd like more information on this exciting new offering, please contact Amy Wilson on amy.wilson@architen.com
Other posts by Amy Richardson
---