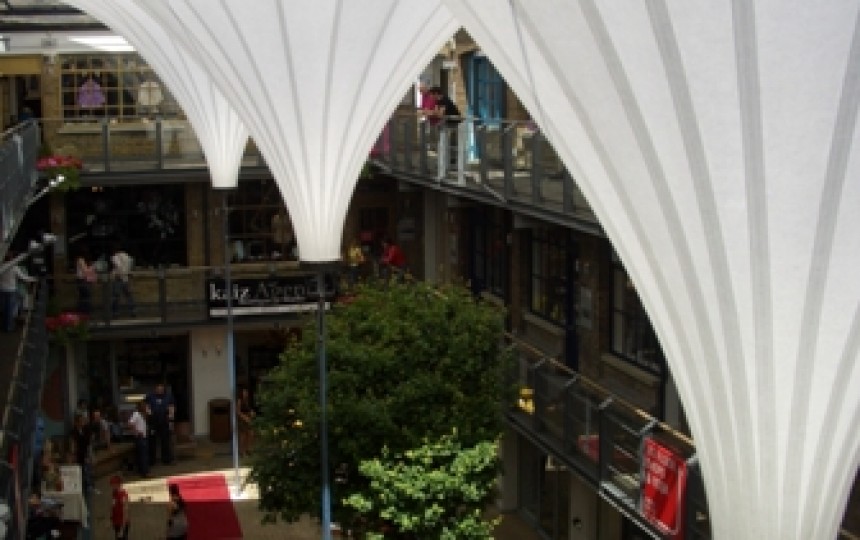 The spotlight was on Architen Landrell at this years Industrial Fabrics Association International Awards as the company won Outstanding Achievement Award for their work at Kingly Court and on the Robbie Williams Tour 2006.
The canopies at Kingly Court, designed by MRP Architects for their property owning clients, were intended to provide short term temporary cover for events such as fashion shows and to provide some protection from the vagaries of the British weather. It's striking form is not only an aesthetic statement, but also allows for the collection and channelling of rainwater to central downpipes.
Fabricated using high translucency Gore Tenara membranes, the cones are flexible enough for continual installation and removal whilst still retaining full strength.
Architen Landrell's work on the 2006 Robbie Williams Tour was also recognised at the Awards in the category of Banners and Flags, Large Scale/Special Events. The work which included the detailing and fabrication of fabric stage and Video screen cladding, pushes the boundaries of what can be achieved in portable and fast erection structures to create a visually stunning display to complement the performances on stage.
Comprising a multitude of different fabrics, textures both plain and printed all produced to allow flexibility between venues and with the characteristic urgency dictated by this sector of the fabric market.
Other posts by Architen Landrell
---