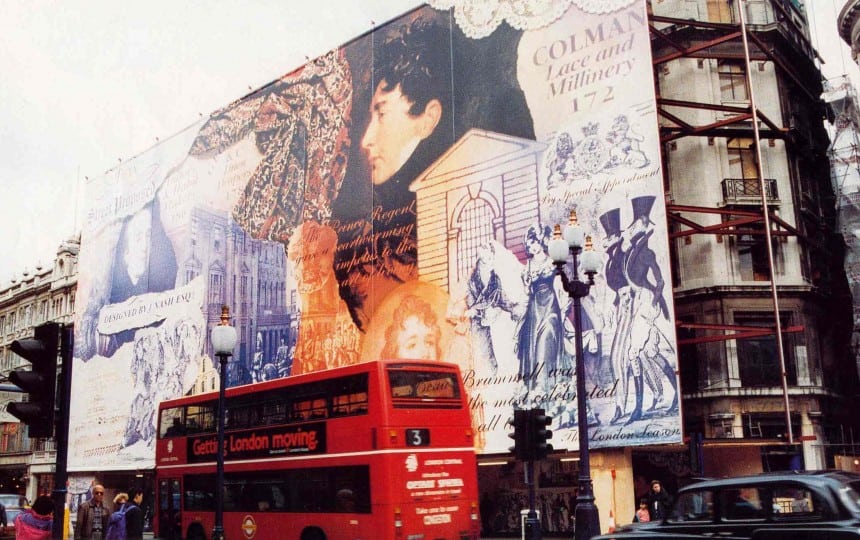 Unlike traditional building materials, some tensile fabric membranes are an ideal printing surface and with that comes the ability to update, change and brand any building, structure or space. Whether used to screen a space, like cladding the scaffolding on a building under construction, or producing large scale banners to promote a brand or event. Tensile fabric is an ideal material to use. When looking at printing on fabrics there are a few things to consider:
The durability required. The colour and size of the image. How will the image be lit? Is the print being used internally or externally? Do you need to see through the print? Will the print be used for multiple events?Is there a specific fire rating requirement?
Each of these considerations will inform the decision of which fabric is used and which printing method. For example, printed membranes installed inside a building don't require the use of dyes which are 100% UV stable, but anything exposed to direct sunlight will do.
The two most common printing techniques used to print onto membranes are Inkjet and Dye Sublimation.
Inkjet printing involves spraying a layer of ink on to the outer surface of the fabric where it will sit and dry. If the fabric is non-absorbent there is a high risk of it being scratched off or damaged, therefore this technique is generally used for banners or large scale printed point of sale material. This option is very cost efficient but not ideal for re-use.
Dye Sublimation involves printing the image onto paper, which is then passed through a heat rolling machine with the fabric, the head forces the ink onto fabric where it is then absorbed. As the ink is engrained in the fabric it wont scratch off and will remain bright with a high contrast, this allows the fabric can be stretched and re-used with little damage. The costs for the process are falling and so this is becoming the most common method of printing.
Other posts by Architen Landrell
---