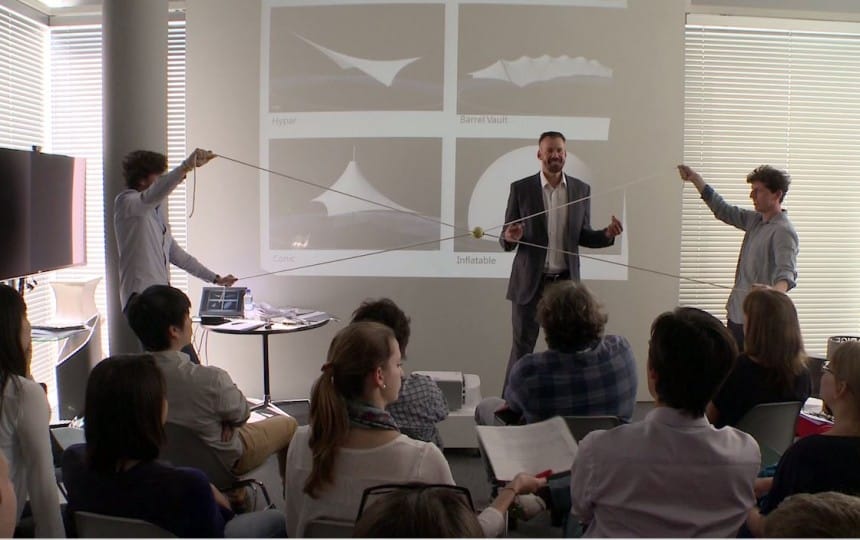 Our CPD series has been receiving praises from the top architectural firms throughout the UK.  This week we had the opportunity to meet with Haskoll Architects where their Design Director, Justina Tsang, had this to say about our latest CPD:
"Architen's CPD on Tensile Fabric Architecture was thoroughly enjoyable with a good combination of interactive demonstrations and great content to keep the pace fast, fresh and interesting.
Jason Smith of Architen was very knowledgeable with a selection of material options, and I particularly found their intelligent frit ETFE system fascinating, as I really like the fact that some architectural skins can and are intelligently responding to weather conditions. The case study of the Serpentine Sackler Gallery was also good.  Highly recommended!"
We appreciate the feedback Justina – many thanks!  Justina brings up a good point and that is how some forms of fabric architecture, like Intelligent Print ETFE systems, are 'live systems'.
They literally are reacting to the elements outside and or lighting requirements (inside or out) and automatically adjusting. They can respond to a set lux level criteria to avoid light pollution outside and manage light levels inside.  Intelligent ETFE systems even respond to heavy winds or snow loads so the system is always ready to perform and ensuring your investment is protected.  Now that's really impressive.
To learn more about Intelligent Printing, click here>.
To learn more about our CPD series and book a presentation, click here>.
Other posts by Amy Richardson
---