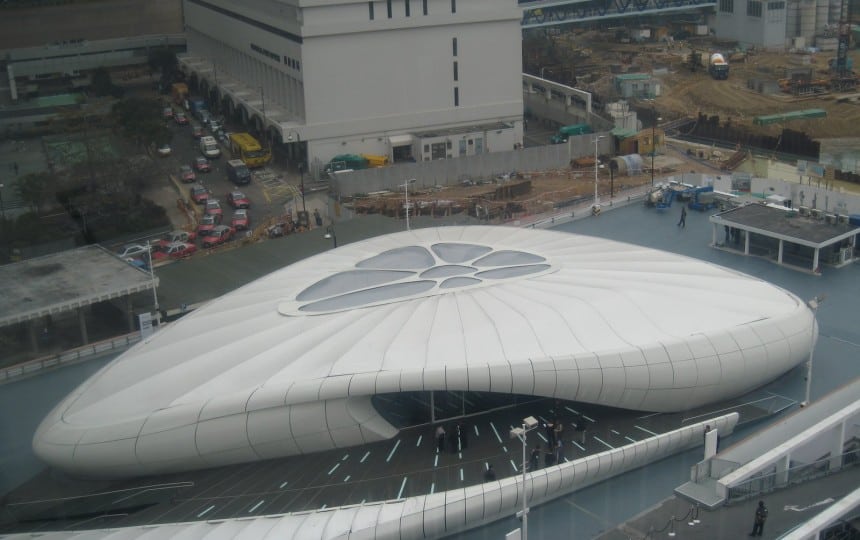 Months of research, development and intricate design and production work have this week led to the completion of one of Architen Landrell's most stunning structures –  the Chanel Mobile Art Venue.
The iconic Chanel handbag provided the inspiration for Zaha Hadids stunning new touring venue which opened in Hong Kong last week to high praise from critics.
The structure, which will be erected in six cities across five continents over a period of two years, houses an array of modern art installations by a number of artists and are all inspired by the famous handbag.
Architen Landrell worked tirelessly, along with events contractors ES Projects, to design and manufacture the venue which is largely made of fabric in order to make it as easy as possible to demount and re-erect.
A PVC coated polyester roof tops the elegant outer shell to form soft, undulating ridges, broken up with ETFE Cushion roof lights to illuminate the rooms below. Inside, Architen Landrell provided fully insulated, curved panels produced from stretch fabric in order that the inner and outer surfaces were in complete unison a specific request from the architect.
Although a challenge, the Architen Landrell team are thrilled with the results and proud of the unique structure they have helped to produce. Senior Designer Ceri Richards commented: The Chanel Project has been an exciting challenge for all those who have been involved. Both design and manufacture of the structure threw up some interesting problems which had to be overcome and we are thrilled to have successfully completed the project and are all looking forward to visiting the venue when it arrives in London!
Photos courtsey of Piers Shepperd at ES Projects
Other posts by Architen Landrell
---