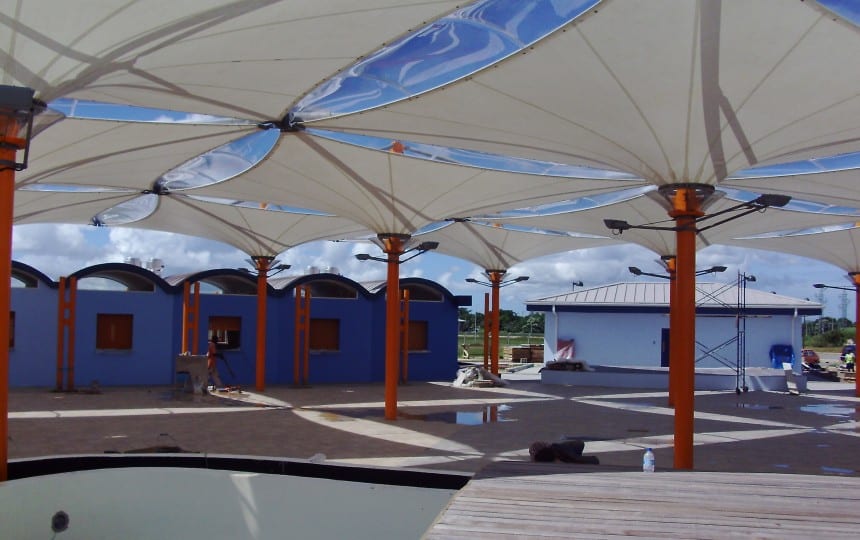 Architen Landrell based in Chepstow was this month recognized with the 2010 International Achievement Award (IAA) presented by the Industrial Fabrics Association International (IFAI) for design excellence in specialty fabrics applications.
Architen Landrell received an Outstanding Achievement Award for its Piarco Aiport project in the competitions Umbrella category.
Highlighting Architen Landrells environmental credentials, the project consisted of the relocation of 14no. inverted conic canopies from London to the Caribbean. As part of the Millennium Domes re-branding as the O2, 101 inverted umbrella canopies were removed from the site to clear space for the entrance way. Under ten years old, the PTFE coated glass cloth structures were still in excellent condition, so Architen Landrell as the original manufacturers, set about finding new uses and locations for the redundant umbrellas.
One of these locations was an open space in the brand new Piarco Airport, Port of Spain, Trinidad. The PTFE membranes were in excellent condition and could be reused without any concern for the degradation of the fabric. Inbuilt drainage and polycarbonate infill panels were also supplied from the original installation.
The uniqueness of this project lies in its recycled/reused status. As fashions and uses of buildings change we often find that structures and removed from site. Where we have the input, Architen Landrell is always keen to relocate a structure! The relocation of these umbrellas was made easier by the good condition of the fabric itself and the modular nature of the canopies.
The client has been thrilled with the results of the installation and is keen for the airport to open in the coming months.
Other posts by Architen Landrell
---