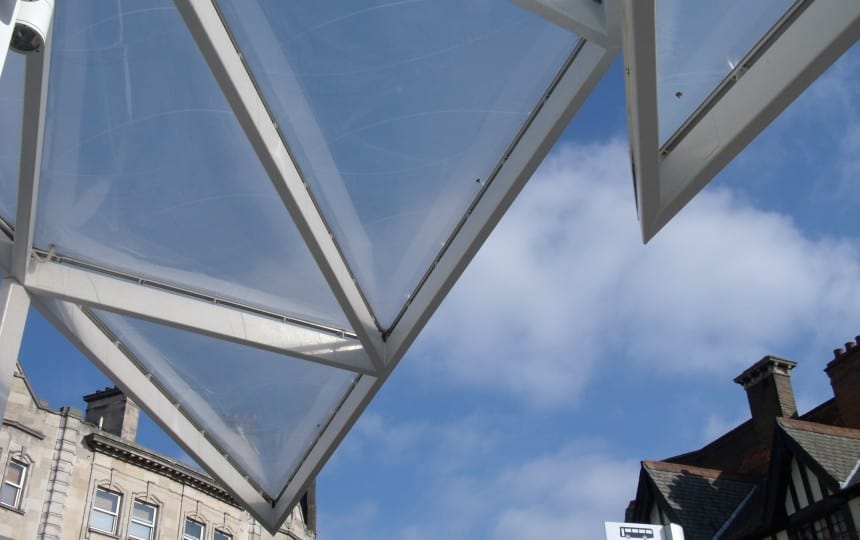 More often ETFE is being used in the construction industry as an alternative to glazing and other traditional building materials. A relatively new option, ETFE has a wide variety of uses and can create dynamic and stunning, yet practical structures.
Ethylene Tetra Fluoro Ethylene (ETFE) is a clear polymer that is extruded into thin films (or foils) which are used to form either a single layer membrane or multi-layer cushions supported in an aluminium perimeter extrusion. In turn this whole system is supported by the main building frame.
ETFE foil can be clear, coloured or can incorporate intelligent printing, where the layer is programmed to move as required providing selective areas of shading, as requested by the client or as outlined in a survey.
ETFE cushions are kept continually pressurised by a small inflation unit which helps remain the pressure around 220Pa giving the structure stability and the roof insulation properties, single layer ETFE membranes dont need any form of inflation.
ETFE Foil has an excellent life expectancy as it is unaffected by UV light, atmospheric pollution and other forms of environmental weathering, some of the many reasons why ETFE has grown in popularity as a traditional building material.
So there we have it, a quick guide to ETFE!
Other posts by Architen Landrell
---