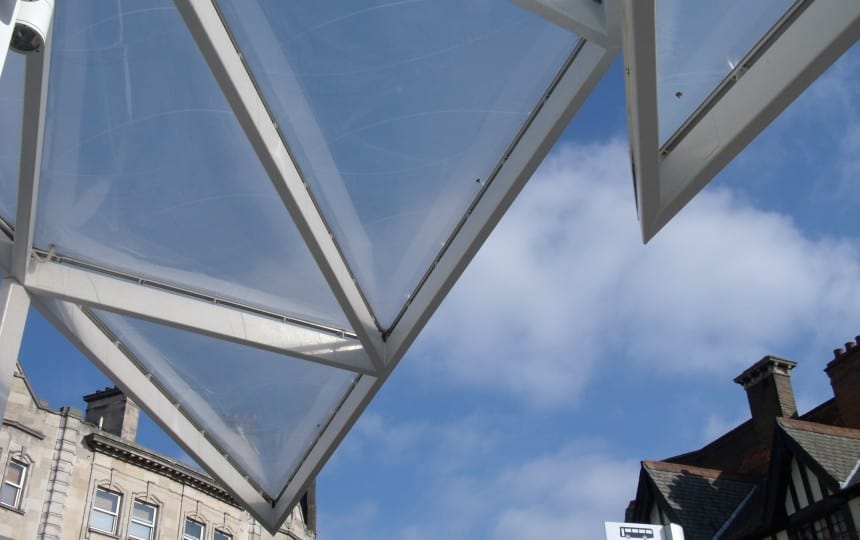 As a specialist in the design, manufacture and installation of ETFE cushion systems, we get asked questions about all aspects of the product, it's uses, practicalities and benefits. Here's just a few of the most common questions we get asked by our clients – we hope they're useful!
---
What is life expectancy of ETFE?
ETFE Foil has a 30 year life expectancy as it is unaffected by UV light, atmospheric pollution and other forms of environmental weathering. In truth, we believe it will last much longer as the oldest ETFE installations are now around 3 decades old and many are still in place and looking good!
What is the maximum cushion size?
ETFE Foil cushions can be manufactured to any size and to fit a wide variety of shapes and sizes. As a general rule of thumb, the size is limited to 3 – 4m in one direction and up to around 25- 30m in the other. By doing this we can keep the system as efficient and economical as possible. Like all rules though, this one can be broken with careful design – take a look at our 20m x 25m ETFE cushions installed at the ExCel Convention Centre: https://www.architen.com/projects/excel-conference-centre-etfe-rooflights/
What happens in the event of a power failure?
An ETFE cushion roof requires constant power to ensure that air pressure within the cushions is maintained at a level to ensure structural stability. This is generally supplied by mains power supplied by the client.
Our air handling units are all fitted with non-return valves therefore in the event of power failure the cushions will not immediately deflate. There is, however, a level of emissivity through the foil and therefore over time, pressure will reduce and the cushions will be at risk to damage by wind, rain, snow and ice; how long this process takes will depend on weather conditions but could be as little as 2-4 hours in thunder/snow storms.
Could you please explain how a rain attenuation layer works?
In order to combat the 'drumming' of rain noise, we can use a rain suppression layer which acts as a dampener and reduces the levels of reverberation to a more manageable level. The rain suppression layer is fixed into the existing clamping system and therefore can be added either during installation or retrofitted.
Two things to consider with a rain suppression layer are:
Light transmission: by adding a mesh to the top surface of the ETFE cushions, there will be an added reduction in the light levels passing through into the space below; this can be positive if glare or heat build-up is an issue.
Maintenance: as standard ETFE foil is a very low maintenance material and doesn't require cleaning. The addition of a mesh means that the surface becomes textured and creates places for dirt to build up so cleaning will be required.
What happens if ETFE needs a repairing?
Minor repairs can easily be carried out on site with minimum disruption by using an adhesive ETFE Foil Patch but should a cushion become more significantly damaged, an individual cushion can be easily removed and replaced.  The most common threat is from birds and excessive bird pecking can cause small punctures; in general this poses no threat to the stability of the cushions and our ETFE Structures are supplied with bird wire deterrent to minimise the threat of bird damage.
How does ETFE to react to fire?
ETFE Foil has a low flammability (270c) and is considered self-extinguishing.  In the event of a fire, hot smoke will cause the foil to soften, fail and shrink away from the fire source to create natural ventilation.  The foil will not create molten drips or any fumes and will not propagate the flames so it meets BS 476 Class 0, German B1 and Euroclass B, s1,d0 fire ratings.
---
Other posts by Architen Landrell
---