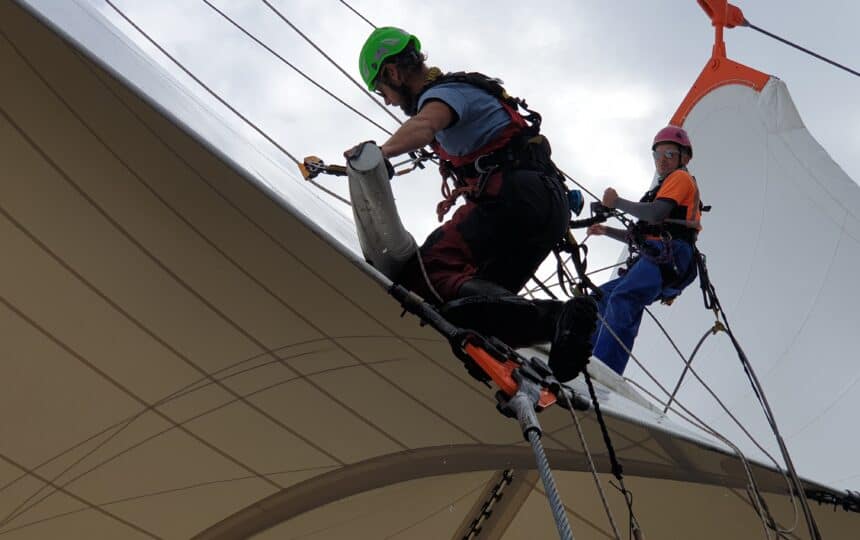 So you have a brand new tensile fabric structure but how do you protect your investment and ensure that the structure reaches its full lifespan and remains looking as good as new? Step in the Architen Fabric Structures Maintenance Team! We're here to offer you the full range of services to ensure that your membrane canopy continues to look and perform at its best.
Inspection
It is recommended that fabric structures receive a visual safety inspection annually. Our average service includes:
Visual inspection of the fabric membrane; topside and underside where possible
Checks of all support components to ensure fixity and integrity
Checking of all boundary cables, tie back cables, tie rods, pins and fabric to structure connections
Repair of minor holes and tears
Supply of a detailed written report which will include photographs of current condition, any damage or defects evident, as well as any appropriate recommendations.
Cleaning
The frequency of cleaning of a fabric structure depends, like all building surfaces, on local site conditions, the shape of the structure, the type of fabric used and surrounding conditions.  It is difficult to state how often a structure should be cleaned and we are often guided by the Client visually checking for the requirement to clean.
A canopy used in rural situation with minimal atmospheric pollution will naturally need less frequent cleaning than one in a dusty industrial area with high levels of atmospheric pollution. Other factors include general dust and airborne pollutants from roads, airports and factories. The fabric's surface geometry and local rainfall levels determine the extent of self-cleaning. Short term conditions that need considering include activities on adjacent construction sites and seasonal considerations such as autumn leaf fall.  The topside of external horizontal surfaces collect the most dirt. In our experience the underside of canopies rarely need to be cleaned. Transparent canopies allow external soiling to be seen from the inside more readily than translucent or opaque fabrics do. Poor cleaning or rain streaking can emphasise dirt levels.
Repair
In the event of a membrane being ripped as a result of accidental or vandal damage, please contact Architen Landrell immediately. If the rip is less than approximately 50mm long and not in a seam, it may be possible to apply a patch. Any larger tears or structural damage should be referred to Architen Landrell for inspection.
If you have a tensile fabric structure which needs maintenance, give our team a call on 01291 638200 or email maintenance@architen.com to discuss how we can help
Other posts by Amy Richardson
---